Ready to be your brand's hero?
Sign up to become a Hitchhiker and build skills that will enhance your career, get access to exclusive Yext resources, and be your brand's hero by driving consumer engagement.

If you're already a Hitchhiker, log in to access this content.
Introduction to the Developer Console & Apps
| Hitchhikers Platform
What You'll Learn
In this section, you will learn:
What is the Developer Console
Navigating the Developer Console
What is an App
Restricting App Access (Endpoints)
---
Accessing the Developer Console
The Developer Console is the hub for all resources related to Yext APIs. You can access the Developer Console within your account by hovering over the drop-down next to your name in the upper-right corner of the page, and selecting Developer Console. You'll notice high level usage stats at the top, the number of calls per day by App in the middle, and a list of all your "Apps" at the bottom.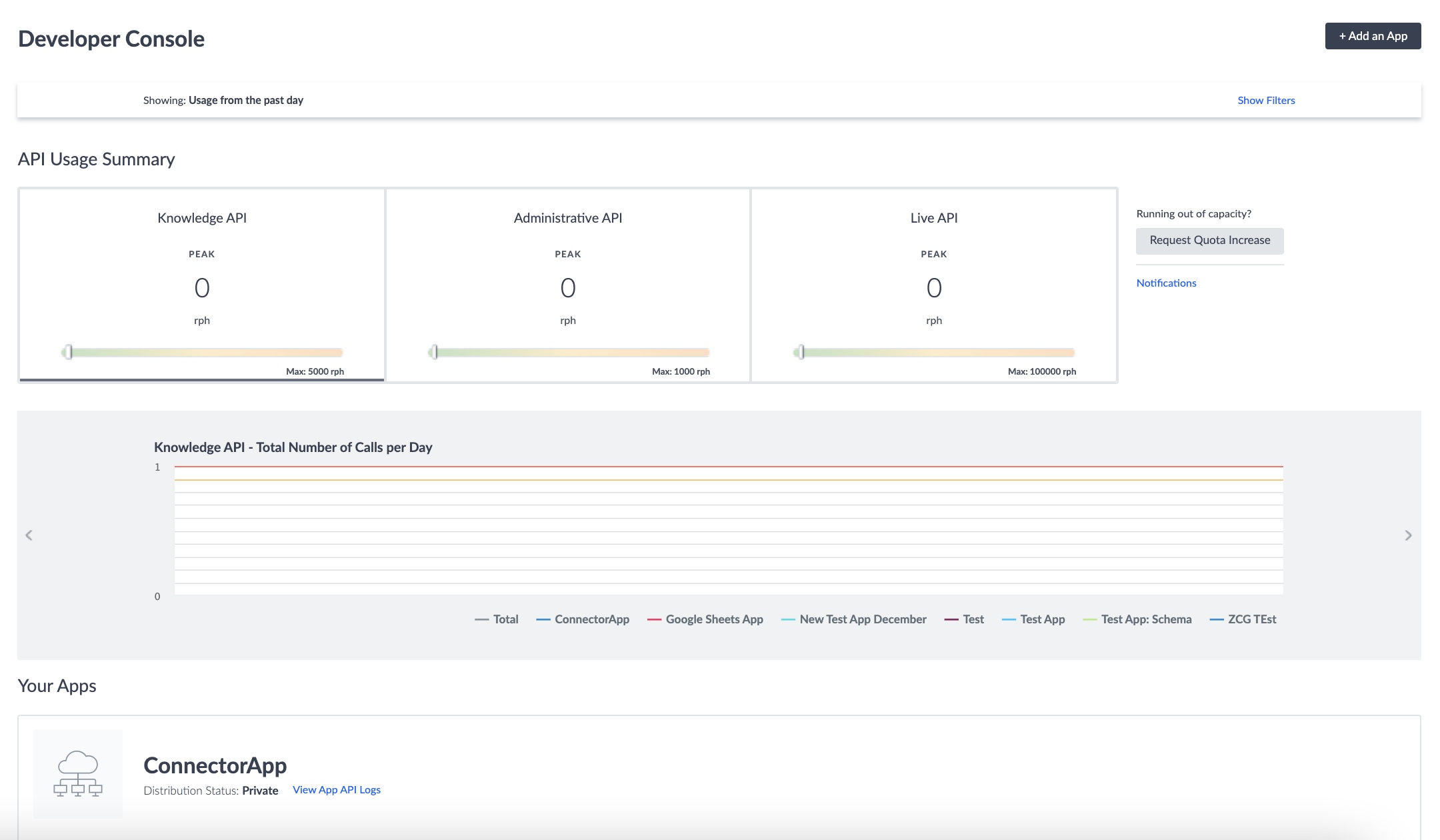 What is an App?
You might be thinking to yourself - I've only ever heard of Apps on my phone, what the heck is this?! Good question! An App (short for Application) is a vehicle through which you can build a data integration. For example, a Yext App might facilitate an integration that sends data from the Knowledge Graph to a 3rd party chat bot, or sync Job entity information in the Knowledge Graph from an applicant tracking system like Greenhouse.
Each app you create in the Developer Console will have its own unique API key, which makes it easy to differentiate your projects and restrict access to only the necessary endpoints (for more on endpoints, see Introduction to APIs. Creating an App is as simple as clicking the + New App button in the bottom right of your screen. You'll learn more about how to create a New App in the next unit, but it's important to know that you have the ability to specify which endpoints each app has access to.
Restricting Endpoint access
Why would we want to restrict specific apps? Specifying endpoints is useful because it ensures your App only has access to the relevant features for your project. If you're building a read-only data integration, you can restrict the endpoints to read-only so you don't accidentally overwrite your live data in Yext (#oops).
Creating different Apps also gives you the flexibility to build different types of integrations and get a better understanding of usage analytics (also known as rate usage) for your individual projects. You'll learn more about rate limits and why monitoring rate usage is important in a later unit.
Ultimately, you may have multiple internal and external teams working on different integrations with different goals within the Yext platform. By using distinct apps for each project you can:
Ensure each project is only utilizing the correct endpoints
View the API usage of each project to ensure each team is working effectively with your overall rate limit
Daily Quiz Streak:
0
Quiz Accuracy Streak:
0
Question 1 of 2

What is an App?

Question 2 of 2

Why would I ever need multiple Apps? Select all that apply

You're a star! ⭐️

You've already completed this quiz, so you can't earn more points.

You completed this quiz in

1

attempt and earned

0

points!

Feel free to review your answers and move on when you're ready.