Ready to be your brand's hero?
Sign up to become a Hitchhiker and build skills that will enhance your career, get access to exclusive Yext resources, and be your brand's hero by driving consumer engagement.

If you're already a Hitchhiker, log in to access this content.
App Details & Settings
| Hitchhikers Platform
What You'll Learn
In this section, you will learn:
How to navigate the App details screen
Available App settings & where to find your API key
App API Usage
---
App Details
Now that you've created your App, you should see it listed in your Developer Console overview screen. If you select View App Details you'll find all your app's settings. This includes core information that you input while creating the app, such as contact information, endpoint permissions, and a new permissions field called Custom Field Behavior. This setting allows you to specify how you want your app to be able to interact with custom fields.
Tip
If your App requires creating, updating the definition of, or deleting Custom Fields, you'll need to update the "Custom Field Behavior" setting.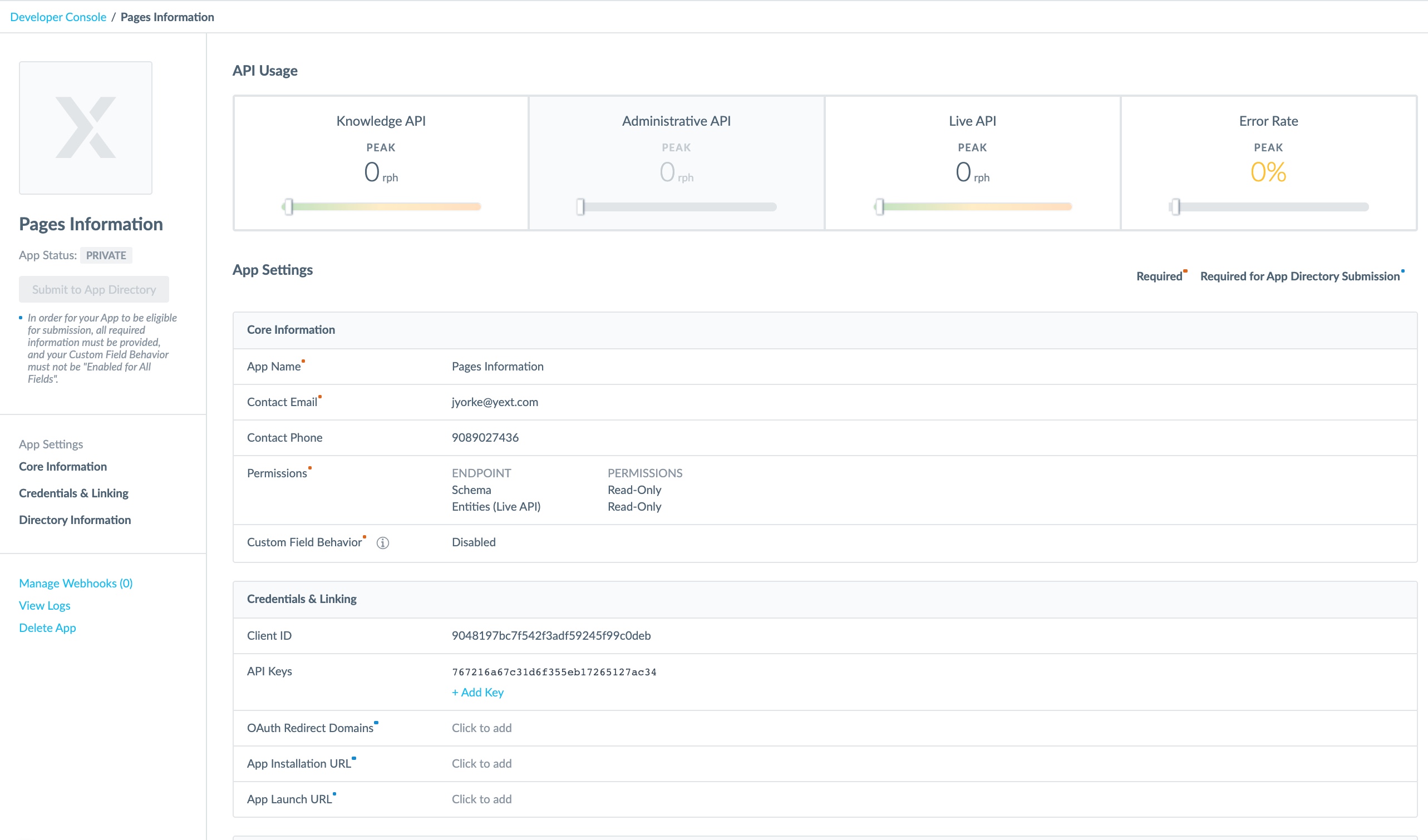 The details page also includes important Credentials and Linking information like your API key. Your API key is essential and you'll need this key in order to start developing and placing calls.
You'll also notice there is the option to + Add Key underneath the API key section. You may be asking yourself - why would we need 2 API keys? It's not uncommon for a project to transition hands, and for safety purposes you wish to change your API key without breaking the integration. By selecting + Add Key, you can generate a second key for your app. This will give you two API keys with the same function. You can then securely transition your integration, and navigate back to the details page to delete your original API key (by selecting the trash icon).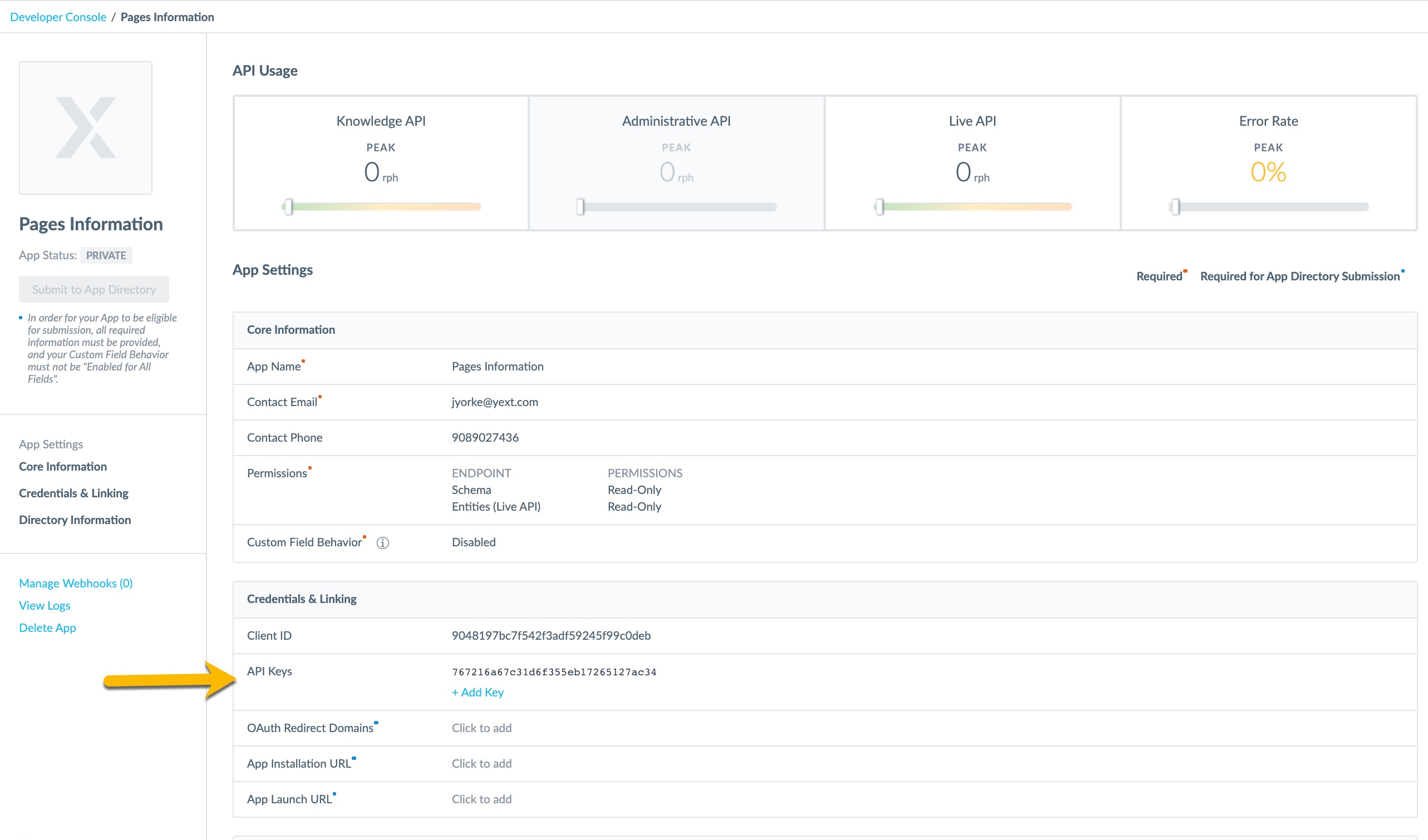 The Directory Information listed at the bottom of the screen is not required for client integrations and only needs to be filled out for App Directory Partners wishing to submit their App to the public database. You'll learn more about the Yext App Directory in a later module. If you do not fall into this bucket, you can ignore this section.
App API Usage
Before we talk about API Usage, it's important to understand that each account in Yext has a limit on the number of requests (API calls) that can be sent per hour. These limits depend on the API being leveraged and will be discussed more in the next unit.
You'll notice the top section of the page also includes high level API usage stats for your App.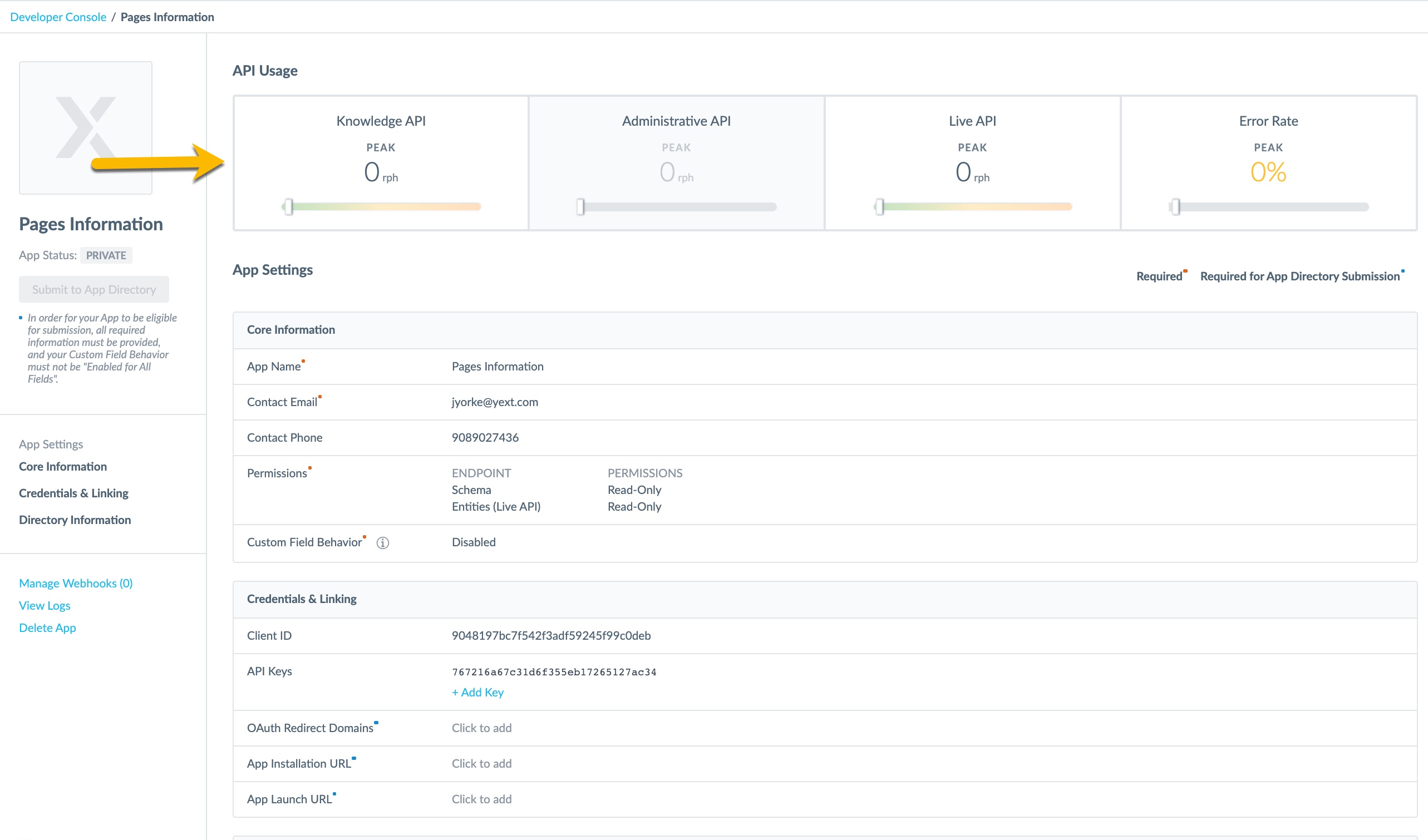 Once you start placing calls, you'll want to monitor your app usage to see how frequently you're running into errors (called peak error rate) and your peak requests per hour (called peak RPH). This will help you identify if certain apps are consuming your quota or running into errors that may indicate a potential issue with your integration.
Daily Quiz Streak:
0
Quiz Accuracy Streak:
0
Question 1 of 2

I want to use my App to build an integration that updates Custom Fields - what setting do I need to update?

Question 2 of 2

True or False: The API key for your App can be found in the "Credentials & Linking" section of the "App Details" screen.

Soon you'll be your brand's hero! 🎓

You've already completed this quiz, so you can't earn more points.

You completed this quiz in

1

attempt and earned

0

points!

Feel free to review your answers and move on when you're ready.