Updates in Listings & Reviews
| Yext Hitchhikers Platform
What You'll Learn
In this section, you will learn:
An overview of the new Listings and Reviews features from the Spring '23 Release
---
Direct Integration with Apple
Integration Overview
This release we are announcing our direct integration with Apple Business Connect! This new integration provides us the ability to sync data to Apple Maps in real-time, Showcase Posting, Action Links, and so many other benefits.
Action Links and Showcase Posting
Action Links are the call-to-action buttons at the top of an Apple Maps listing within the "Action Row'' that nudge customers to take key next steps like scheduling an appointment, or placing a takeout order. Some Action Links can also be leveraged as CTAs in Showcase Posts.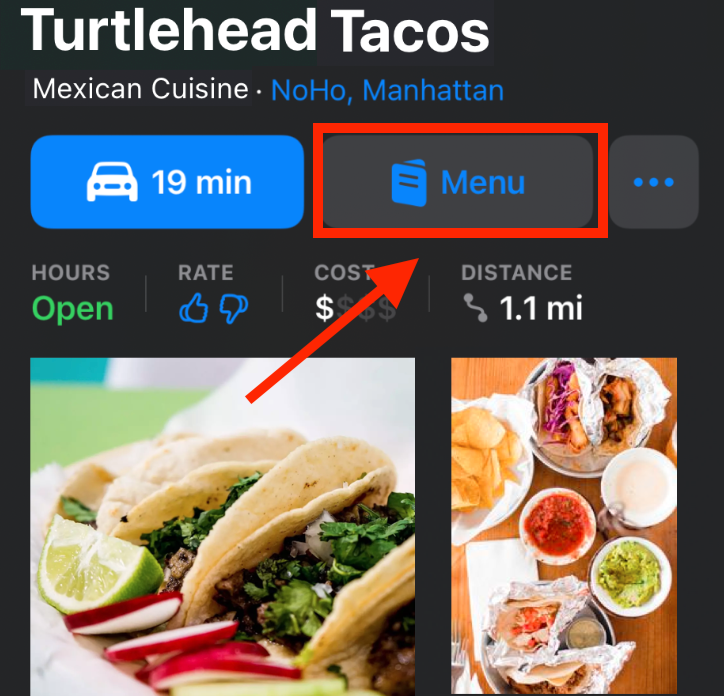 Showcase posts allow businesses to share promotions or announcements that are meant for a particular moment in time with their customers in the "From the Business" section of an Apple Maps listing.
Listings Verifier Support for Apple
In the Fall '22 Release, Yext announced the Listings Verifier, Listing Accuracy, & Listing Detail Pages for select publishers.
As of April 19th, 2023, with the General Availability of the Spring '23 Release, Apple will be a fully supported publisher in the Listings Verifier.
Note: Delegating your Apple locations to Yext will increase the likelihood of Apple accepting data, increasing Verifier accuracy.
How This Impacts You
This updated API integration makes it easier than ever to push real-time updates — giving Yext users greater control over their information on Apple Maps.
With the new Apple Verifier support, users can now additionally track Listings Accuracy, view side-by-side field comparisons, discover and fix content discrepancies, and initiate manual rescans for their Apple listings.
Feature Availability
Showcase posting is currently for US locations only.
All Apple features have been added to accounts, with the exception of verifier support, which will be added on April 19th, 2023 when this feature is released with General Availability of the Spring '23 Release.
Additional Resources
Google Search Term Categorization
As we previously announced in our January '23 Monthly Release , on February 20th, 2023, Google deprecated and modified a series of older metrics in favor of updated analytics that were introduced in the new Business Profile Performance API in July 2022. Please reference this documentation for a full list of updates.
One of the deprecated metrics was Google Search Queries. Google Search Queries was particularly helpful because it automatically grouped queries that your listings ranked for into three categories: Branded, Direct, and Discovery.
To help you better understand how consumers are finding your listings, we created a new filter in Report Builder called Google Search Term Type that groups search terms into Branded vs. Unbranded.
With this update, you can configure which search terms are attributed to branded versus unbranded. To add branded terms to the platform, navigate to Analytics and click Branded Terms. Then click + Add Branded Term and enter the desired term. These search terms will then apply to the Google Search Term Impressions metric automatically.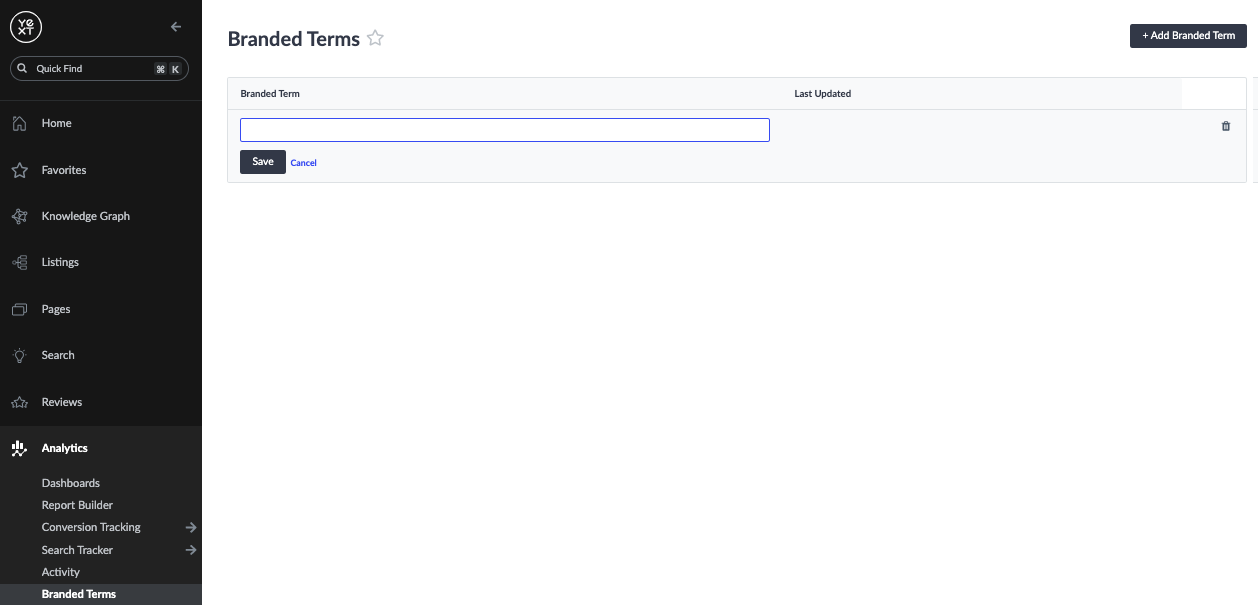 Then, to dimension data by these terms in Report Builder, add the Google Search Term Impressions metric to a report and add the Listings > Google Search Term Type dimension. This will provide you with a breakdown of branded vs unbranded searches based on the terms you entered.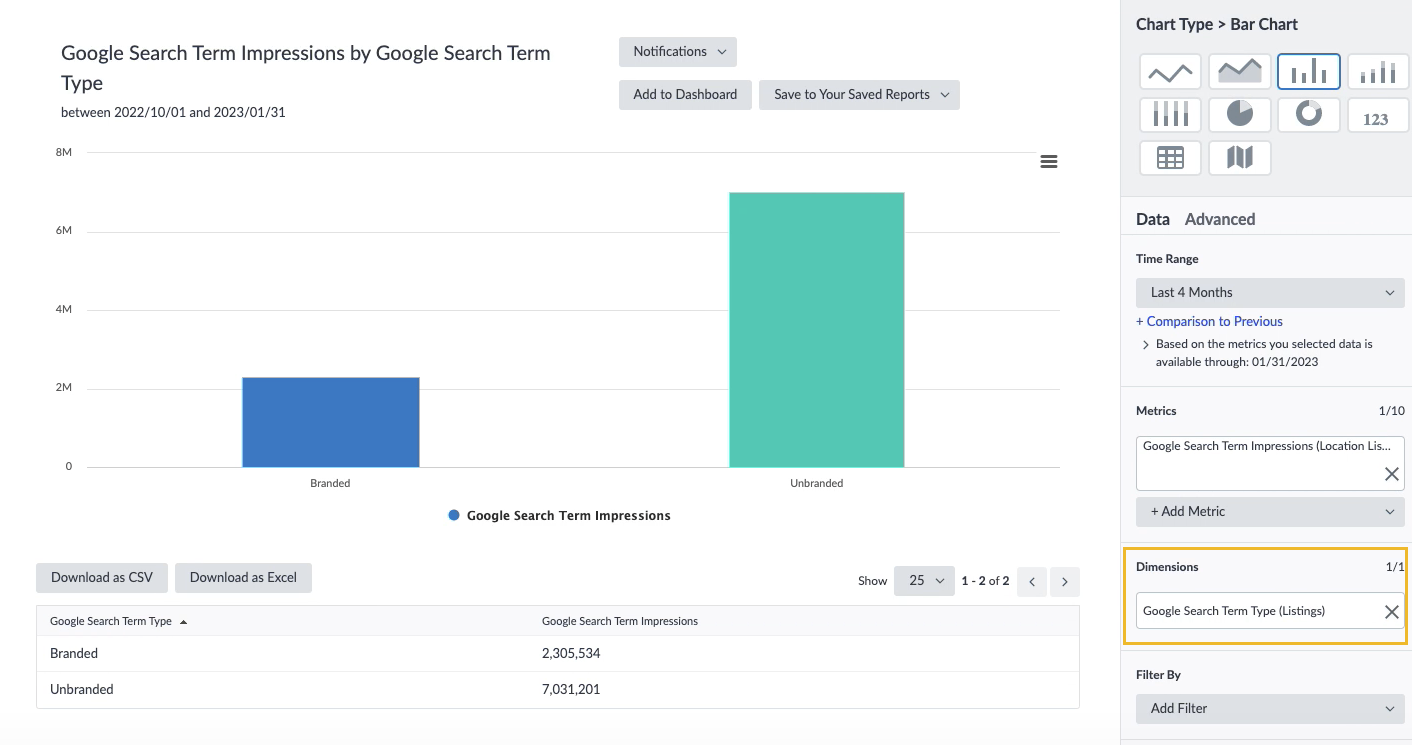 How This impacts You
The ability to configure which search terms are attributed to branded versus unbranded queries is especially beneficial for businesses that incorporate their products or services into their business name, as this makes it difficult with the new metric to determine if a search term should be categorized as branded or unbranded. Overall, this should provide users with the level of detail they had prior to Google's API and metric deprecation, as well as additional capability to configure relevant branded terms.
Feature Availability
This update was automatically enabled in all accounts, so you can start taking advantage of it today.
Additional Resources
Google Offer Post
Users can now create Google Offer Posts via the Yext Posting UI or API.
Offer Posts are a special type of social post that Google displays in an "Offers" section of the listing so that businesses can advertise promotions or coupons. These posts are intended to have a start and end date and time, and optionally can include these three new fields: Coupon Codes, Redemption URL, and Terms and Conditions.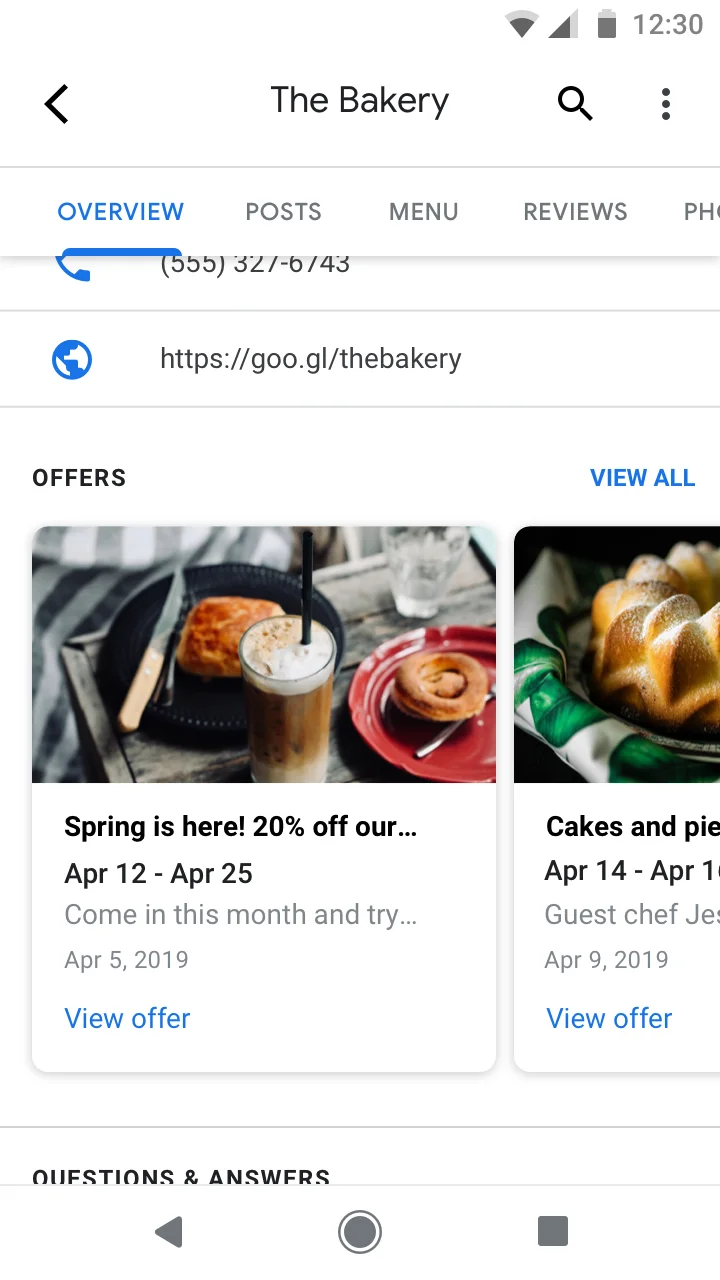 You can create a Google Offer post by navigating to Listings > Posts and clicking + Add Post. When you select Google as the publisher to post to, and select Add Google Event you will see the option to toggle on Offer Post. This will open the additional fields that are available for Google Offer posts.
Additionally, you can create Google Offer posts via the Posts: Create API endpoint.
How This Impacts You
You can now make posts on Google directly from Yext. This addition of Offer Posts means that Yext Posting now has full support for all types of Google social posts.
Feature Availability
To turn this feature on in your account, navigate to Account Settings > Account Features and select Spring '23: Google Offer Posts (early access).
Additional Resources
Reviews Automatic Response App
There is now an Automatic Review Response App available in the Yext App Directory, which allows businesses to configure automatic replies to reviews based on basic criteria, such as the minimum star rating and whether or not the review includes any content.
To set this up, users will need to:
Create an App in the Developer Console with Read / Write permissions for Management API > Reviews endpoint.
Install the app using the API key from the app you created, and configure your desired automatic response settings.
Set up a Reviews webhook in your app to invoke the reviewsAutoRespond function.
One you walk through this setup, the automatic responses will being to post for reviews that match the criteria you selected.
How This Impacts You
Now it's even easier for you to reply to reviews without content, meaning just a star rating without text, or 4-5 star reviews.
Although this tool is available, and can help save you time, Yext's guidance regarding review response has not changed. Customers prefer responses that are personalized to them, and demonstrate individual attention to the content of their review. Automatic replies should be used sparingly.
Feature Availability
In order to use this app, you must turn on the Preview Feature for Functions Hooks. To do this navigate to Account Settings > Account Features and select Preview Feature: Function Hooks.
Additional Resources
Daily Quiz Streak:
0
Quiz Accuracy Streak:
0
Question 1 of 2

Which of the following features were added as part of Yext's direct integration with Apple? (Select all that apply)

Question 2 of 2

Where can you add Branded Terms to the Yext platform?

High five! ✋

You've already completed this quiz, so you can't earn more points.

You completed this quiz in

1

attempt and earned

0

points!

Feel free to review your answers and move on when you're ready.
Sign up for Hitchhikers to start earning points!
If you're already a Hitchhiker, log in to access this content.
Feedback